Ensuring a FRESH START for calves can make or break their performance and longevity in your herd. That's why quality colostrum and calf management is so important.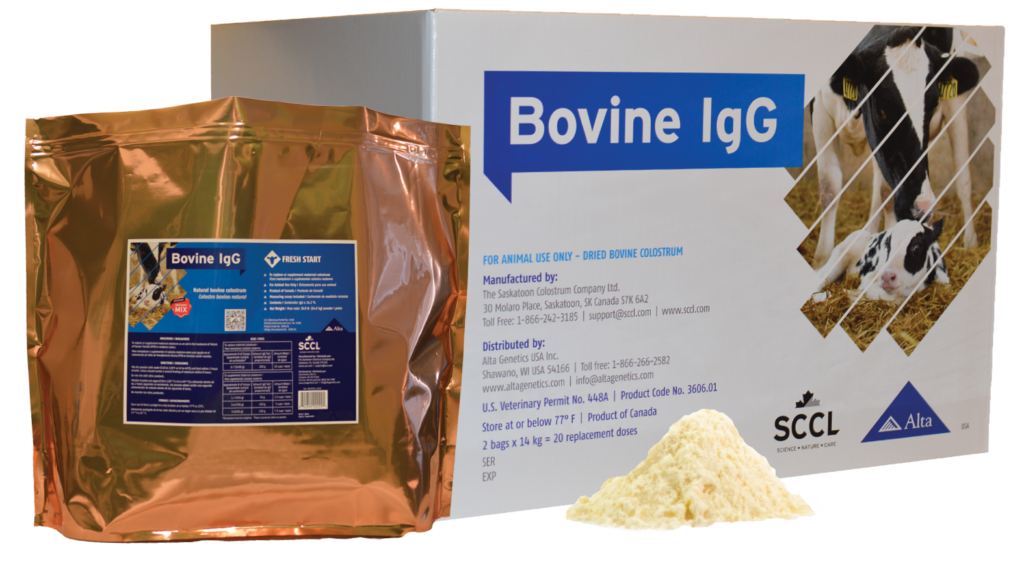 Future Success Begins with a
Healthy Calf
Quality Alta FRESH START colostrum creates healthy calves for your future herd
Made from whole bovine colostrum that is not fractionated or reconstructed from components, Alta FRESH START colostrum offers calves the complete package to get them off to their best start.
HIGH TRANSFER OF IMMUNITY
IgG's readily absorbed for maximum immune protection
An excellent source of IgG with over 85% in the form of IgG1, the antibody most effective in providing local immunity and reducing disease associated with failure of passive transfer
Broad spectrum of antibodies and nutrients that are needed to establish a healthy, strong start after birth
An important energy source required by calves immediately after birth
Assists with thermoregulation
Free of pathogens that cause the following diseases: Tuberculosis, Brucellosis, Leukosis, Paratuberculosis (causing Johne's disease), Salmonellosis, E. coli infection, others
USDA Veterinary Biologics license for use as a total replacement for maternal colostrum in calves
Easily mixes in under 15 seconds
Resealable and recyclable packaging
Mix quality colostrum with
strong management protocols
The decisions you make in your maternity pen today can have lasting impacts on your future herd's success. 
Watch the Alta FRESH START Tip Series and view the manual for recommendations on cow and calf management around calving, including:
Calving Area Management
Calving Procedures
Milk Fever
Processing the Calf
Colostrum Management
Colostrum Replacement Options
Colostrum Enrichment Options
Transition Milk
Work with your trusted Alta advisor to implement a FRESH START plan for your calves using high-quality products and strong protocols.